Adapters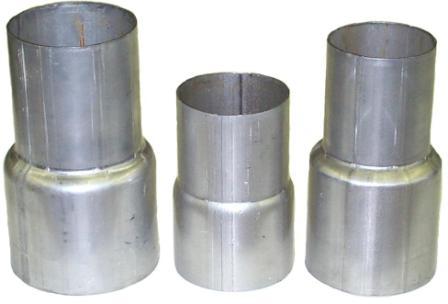 Aluminized steel 16 gauge material. Also available in 304 s/s and 409 s/s in most sizes via special order.
Note: adapters can be made in custom lengths. We can expand or shrink up to about 3" on each end of the adapter, these can be made up to 10' long. To change the overall length, drop the last two digits of the part number and insert the length in inches into the part number. For example, a 0012512506 that is needed to be 12" long would become a 0012512512. For slotted ends (4 slots), add a letter "S" after the appropriate 5th or 8th, or both, digits. For example, 1012512506 with slotted ends on the id end, would become a 10125S12506.
Note: most of these adapters where shrinking is required, are made out of the larger sized tubing, and the smaller size is attained by shrinking the larger sized tube. This does cause the tube to thicken on the smaller end. Once this metal is shrunk, it cannot be expanded again, it will split. These adapters are stepped, and not a smooth cone-shaped transition.
od/od
id/od
od/id
id/id